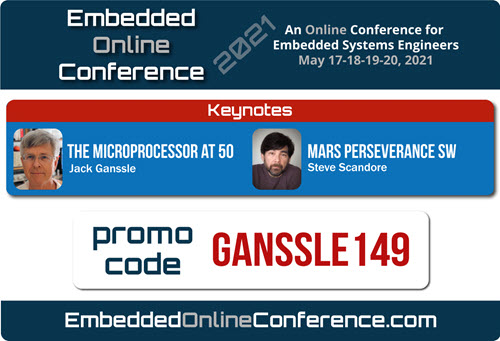 The speaker lineup for the Embedded Online Conference is pretty amazing! Sign up with promo code GANSSLE149 and wonderful things will happen like reversal of male pattern baldness, a guest spot on Teen Vogue magazine, and a boost of what JFK called "vim and vigor." It will also get you registered for $149 instead of the usual $290 fee.
Jack's Random Rants And Thoughts About Embedded Systems
There are a lot of articles here; so much it can be hard to find what you're looking for, but they are searchable.
Index to categories of rants:
Electronics
Business Issues
Software Engineering
Products and Reviews
Philosophy of Engineering
Miscellaneous
History of Electronics and Embedded Systems
Software
Random Thoughts
Fun Stuff
Real-Time Issues