This month's giveaway is a 10 MHz function generator - or, rather, a bag of parts that can be assembled to be a function generator. I bought this from eBay a couple of years ago and just haven't had time to put it together. It could be a great project to do with a young 'un. There is no plastic box, and I can only presume all of the components are included.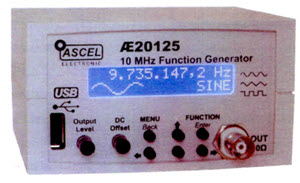 The giveaway will close at the end of January, 2019.
A couple of rules:
Only subscribers to the Embedded Muse are eligible to win. Not a Muse subscriber? Sign up here.
We'll cover shipping costs, but if there are any customs duties or other fees they are the winner's responsibility.
Remember: If you're not subscribed to The Embedded Muse list, your contest entry won't count. Subscribe and enter the contest here.