The Embedded Muse

Since 1997 the Embedded Muse has provided hardware and software tips about building embedded systems.
Free twice/month e-newsletter about embedded systems, now in its 22th year. No hype, just down-to-earth technical talk about how to build embedded systems - both firmware and hardware. 35,000 engineers subscribe. Muse subscribers are eligible for our monthly giveaways: oscilloscopes, debugging tools, etc.
"One of the first questions we ask prospective employees is if they read The Embedded Muse," - Mike Katz, Northrup Grumman.
"We've had several excellent candidates from The Embedded Muse job ads, including a few hires. You do better than recruiters!" Andy Kunz, Team Spektrum
To subscribe to The Embedded Muse, enter your email address and press submit.
Freebies: Eevery month we run a giveaway of something cool. Past giveaways include bench oscilloscopes, USB scopes and logic analyzers, books, development boards, power supplies and much more. Only Embedded Muse subscribers are eligible to win. Enter the contest here.
This month's giveaway is a copy of Embedded Systems World-Class Designs.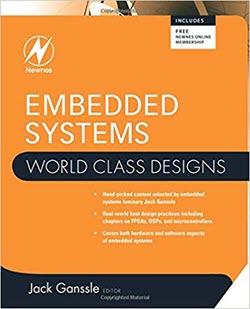 Privacy policy: We never, ever, reveal your email address to anyone, despite promises of wealth, fame, recovery of lost youth and desperately-needed full-body makeovers. The only email you'll get from us is The Embedded Muse, unless you correspond with us, in which case we'll respond. Unlike so many other newsletters, we don't even track links. And the ganssle.com web site does not use cookies (to further respect your privacy, we don't use any sort of analytics).