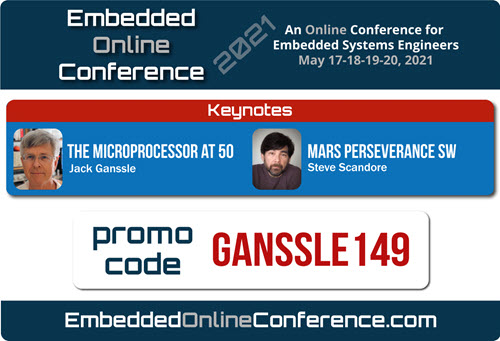 The speaker lineup for the Embedded Online Conference is pretty amazing! Sign up with promo code GANSSLE149 and wonderful things will happen like reversal of male pattern baldness, a guest spot on Teen Vogue magazine, and a boost of what JFK called "vim and vigor." It will also get you registered for $149 instead of the usual $290 fee.
By Jack Ganssle
Rock Stars
Published 4/10/2006
The 1800s were known as the "Great Age of the Engineer."
Engineers were rock stars, feted and admired, their own kind of nobility, one born not of privilege but forged from the Industrial Revolution.
200 years ago this week, April 9, 1806, Isambard Kingdom, Brunel, possibly the most famous engineer ever, was born. Who? Here in America most people, even most engineers, haven't heard of this short man who was an intellectual giant. Yet in 2002 he was voted the second greatest Briton of all time, trailing only Winston Churchill.
Brunel reshaped both the landscape and the nature of engineering. Every class of project he touched stretched beyond anything built before. His suspension bridge on the Avon Gorge was over 700 feet long and 245 feet over the water, higher and longer than any such structure before (unhappily he died before it was completed, but it did open in 1864 and is still in use today.)
Brunnel's 1838 Maiden Railway Bridge is still the widest and flattest such structure in the world, and it, too, is still in use over 150 years later. How many of the projects we build will our great-great-great-great-great-grandchildren use?
He and his father Marc built the first tunnel under a navigable body of water - the Thames - which was completed in 1843. The injuries he sustained in a flood while building the tunnel plagued him for the rest of his life, but that structure, too, is still in use by some 14 million railroad passengers every year.
Then there were the ships - great, monsters that stretched the technology of the day. The 1836 Great Western was the first steamship in the transatlantic service. Wood, 236 feet long, it used both sails and paddlewheels.
His 1843 Great Britain was the first iron propeller-driven ship to cross the Atlantic.
Always looking for a great challenge his next ship was 692 feet long and designed to carry 4,000 passengers from England to Australia. Though technically a competent design, it was never a financial success for a number of reasons, not the least the opening of the Suez Canal that greatly reduced the distance to Oz. Eventually chartered by Cyrus Field, the Great Eastern laid the first transatlantic cable, a tale very well told in "A Thread Across the Ocean," by John Steele Gordon. This engineering story is a page-turner one just can't put down. Or there's a fictionalized account called Signal & Noise by John Griesemer that uses many facts from history but weaves a fascinating different sort of world around the story.
Unfortunately Brunel died a relatively young (53) man. I can't help but wonder what his audacity, tenacity and inspiration would have accomplished had he more years to live. While building a 100 mile-long railway he joked that they build it even longer, all the way to New York, via a shipping route (which inspired his first transatlantic ship). One of his directors complained "He'll have us going to the moon yet," which surely sounded absurd in the 1830s. But what sort of role would he have played in the space era?
My favorite book on the man is "Isambard Kingdom Brunel," by L.T.C. Rolt. There's a web site celebrating the 200th anniversary of his birth at http://www.brunel200.com/ .
Alas, if only the rock-stardom of so long ago still applied to our profession!